Hey all,
Curious if anyone has any real firearms or has a concealed carry. I currently own 3 firearms for 3 specific purposes. I am looking to get a fourth, to fill a final role, but more on that later. I love to modify anything I own, ever since I was young. All my cars have been modified and why should it stop with the other guy toy, weapons.
I have a Beretta PX-4 Storm in 9mm, which is my carry for now until I get a subcompact or small revolver. This was my first ever weapon and was my protection/home defense until I took it up a notch. I modified it with a laser that has it's own picatinny rail for mounting a flashlight or other device below, and I also purchased a stainless guide-rod/spring, to replace the flimsy plastic one. The laser blinks very rapidly instead of being a constant beam. This not only increases time on target (flashing light draws the eye more than a solid) but preserves battery life.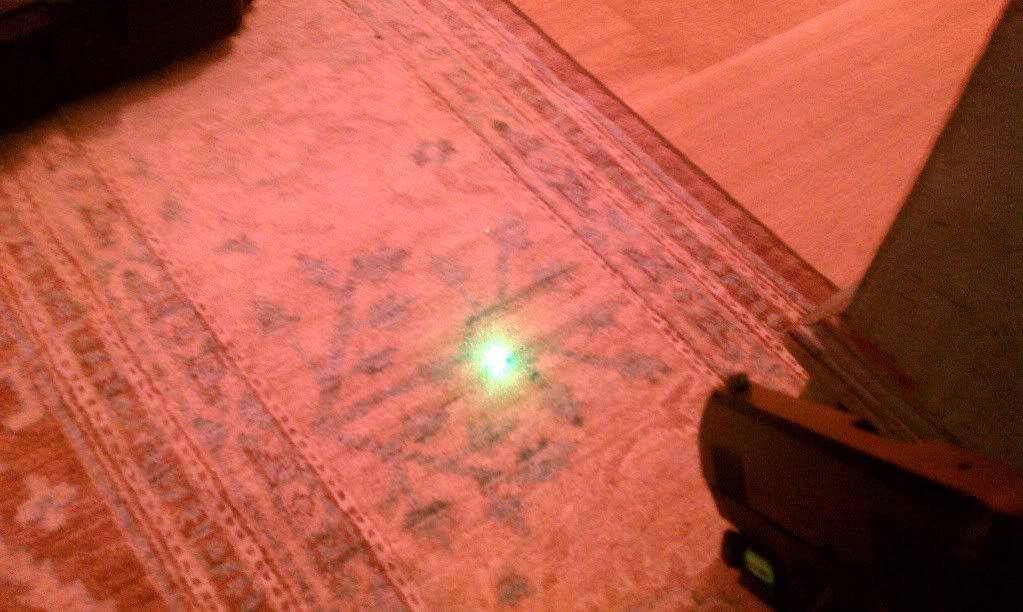 The second gun I got needed more range, but I also didn't want a heavy kick or strange high powered caliber. I decided on the .308 (7.62x51) and got to searching. I ended up choosing the AR platform for its modify nature and it's reliability/long standing brand/model. I decided against semi-auto for numerous reasons and chose the AR-30. What a machine, stock free-floating barrel, even came with a muzzle-brake. Anyway I modded it like crazy! I bought an adapter to turn a normal sling mount into a picatinny rail to fit a bi-pod. I removed the buttstock and bought a CNC'd adapter to allow an A-2 buffer tube. Screwed one of those on and Boom, any buttstock on the market really! I chose the Magpul PRS for its adjustable length of pull and adjustable cheek-piece. My next mod was to the trigger, brought it right above 2.5lbs. Finally, I added a Accushot monopod to give the weapon complete control. The monopod can twist (screw) up and down to account for elevation (distance), but it also has a 'quick-switch' to allow it to move all the way up or down quickly, or put it away. My final mod to the weapon was to change the bolt knob. It was a tiny ball, it looked puny compared to the rest of it. I got a custom job and the guy threw in the flash-hider for my scope because we got to talking about guns. Turns out he had an SWFA scope but it got crushed (long story) but the flash-hider was off so he saved it, picked it up for an extra $5 (actually why I started the thread, I was replying to Nightstalker on a slightly different topic). Ahh, for the scope. It's a beauty of some glass. SWFA Super Sniper 20x42mm, so it's a fixed zoom. Mill-dot, and atm it's zero'd at 200 yards. Reason for that is ease of calculation for distance shots.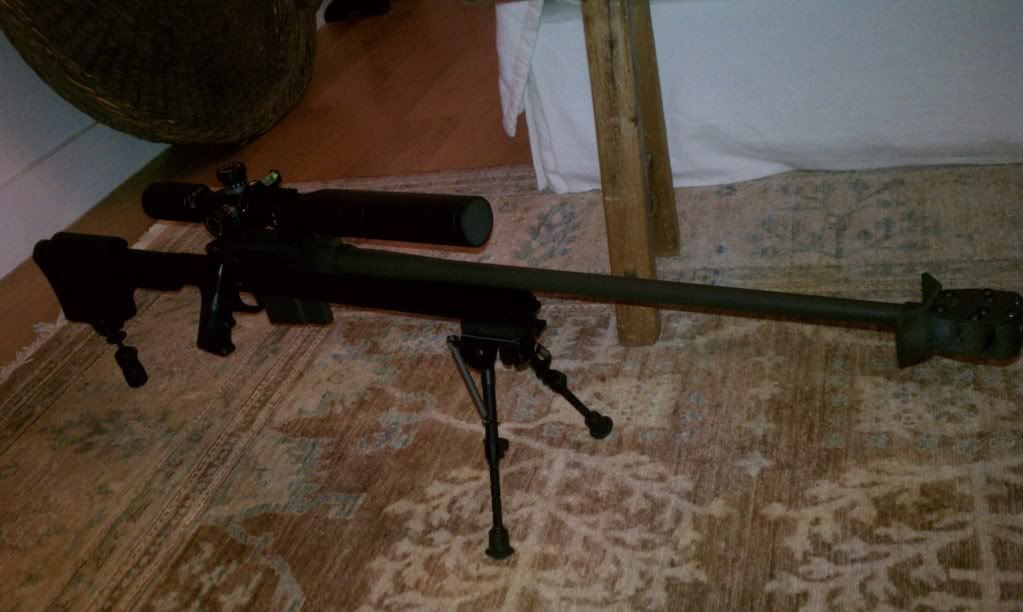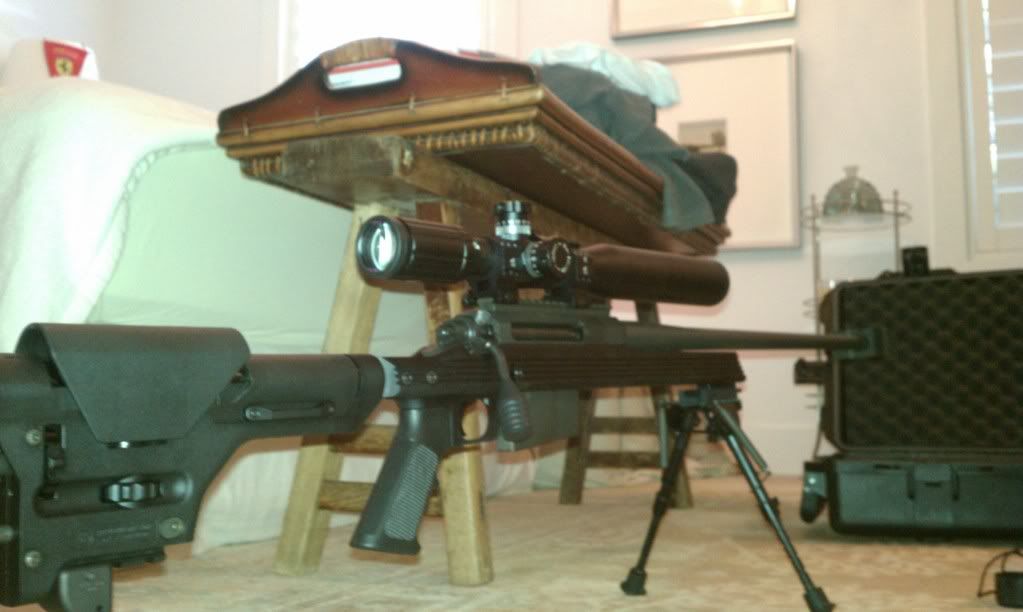 Here is what it looked like with only the scope and bipod:
The last weapon I got was an upgrade to home defense, a shotgun. The reason this is the best home defense weapon is because if there is a break-in, you don't even need to pull the trigger 90% of the time. Reason? The sound of racking a round in the chamber has become a staple as, '..this guy means business.' It is an iconic sound that will scare away 90% of intruders. They(most) don't want to fight, they want an easy steal while you're asleep/away. This is the main reason a shotgun is best, another is the ease of access to LTL (less than lethal) rounds like a beanbag. My first round is a beanbag round that has a tail to stabilize it (little more pricy, lol), second and so-on is of course, lethal, 000buck. I own a Mossburg 500 Crusier. I modified it with a pistol grip, collapsible stock and a flash suppressor/breacher, it also has an extended tube (more shells).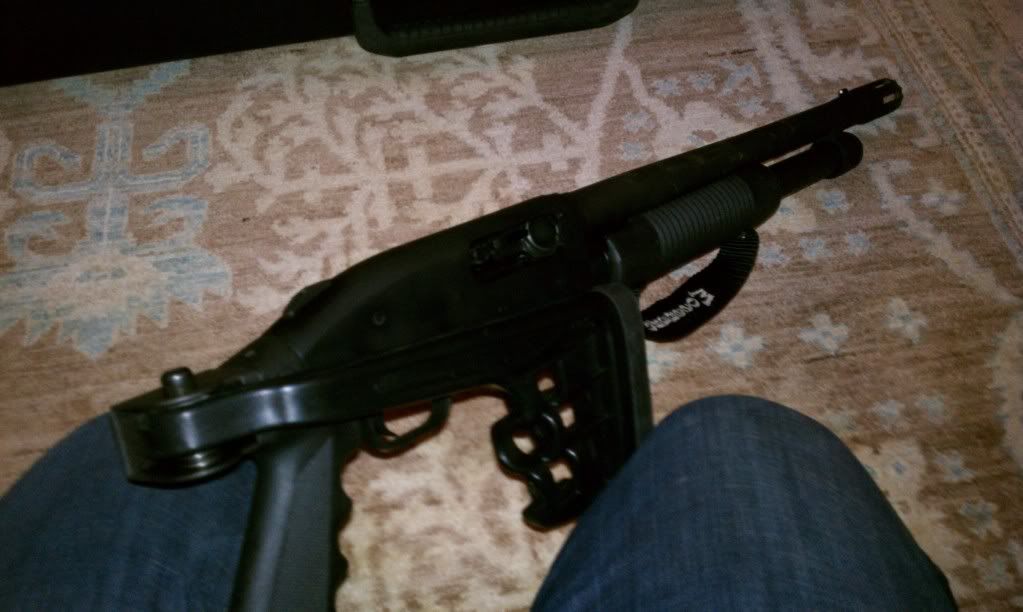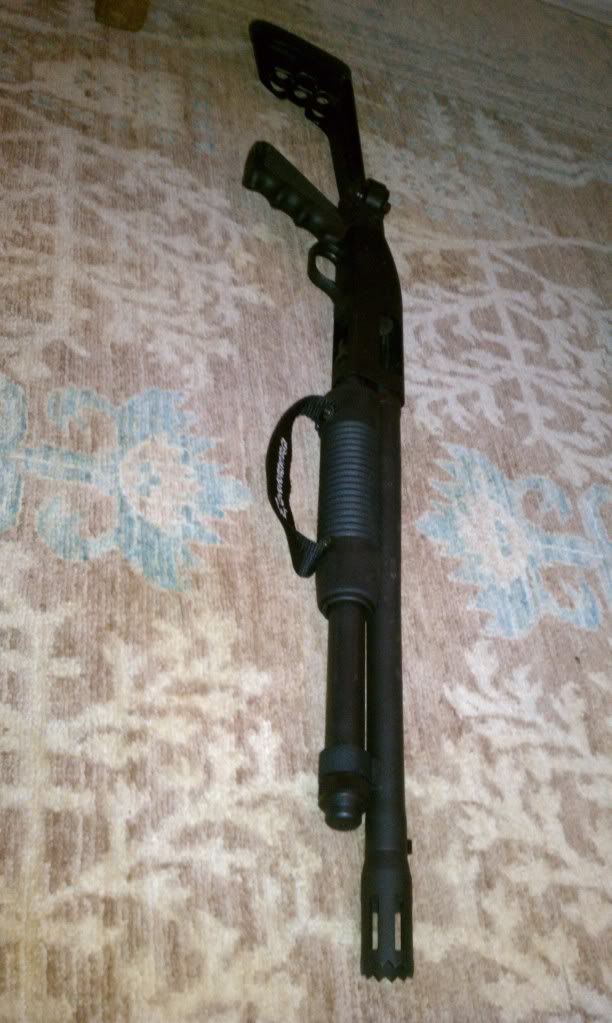 Here is my case (made the cutouts myself, you can see the mod progression lol):
Lastly the 'hole' in my defense. Something that's semiauto, a rifle/smg type thing right? Well what I'm looking at is called the Kriss Vector. Some may know it from COD where it was dubbed 'Vector.' Others may know it through online. It is a revolutionary design to semi-auto/auto recoil reducing, less muzzle lift ownage. It basically uses the round's rearward force to push the gun down, instead of back at you. Here's a link, but not much explanation, maybe our resident engineer, toolmantim, will enlighten us to the mechanics at play, unless it's really that simple:
http://en.wikipedia.org/wiki/KRISS_Vector
So this is what I plan to be my next weapon, once I can build enough funds. In .45. I can't wait to see if this platform called, Super-V, becomes truly revolutionary and can change the world of conventional ballistics. If so it will be available in all sorts of rounds and could be epic.
/rant